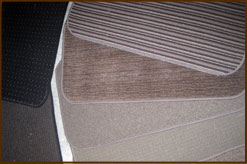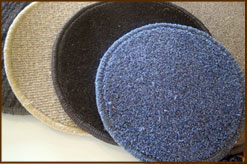 Frequently Asked Questions
I've just had new carpet installed. Can I have my off cuts made into mats?
Absolutely - there are just 4 easy steps...
Drop off your carpet remnants to us - bring your measurements with you.
We trim your carpet to size.
We match the best yarn for the job (or you can choose!) and overlock/edge using a neat and tight stitch.
You can pick up your mats, usually within 2-3 working days.
Do you make custom shaped mats for boats and caravans?
As long as you can provide us with an accurate template we can make 'odd' shaped mats.
How do you work out the cost?
Cost will depend on the size of your mat. We charge per metre of overlocking.
We can provide you with a quote for unusual shapes and joining of two or more pieces.
What payment options do you offer?
We accept cash, cheques and direct deposit into our bank account.
Do you overlock old/used carpet?
Unfortunately we are not able to overlock used carpet as it contains harmful particles that can seriously damage our equipment.
Do you provide a pick and drop off service?
This is not a service we provide due to a disability.